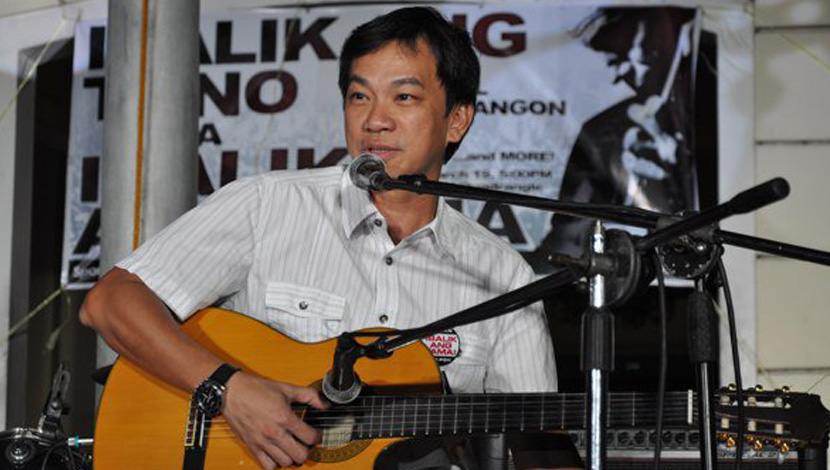 Gap Legaspi '83 counts among his many talents the abilities of singing, playing the guitar and rocking the saxophone.
On June 16, 2004, for the first time in history, a Filipino delivered a lecture at Harvard University's Department of Neurosurgery at Brigham and Woman's Hospital. The department chairman, Dr. Peter Black, M.D., Ph.D., invited him to speak about keyhole craniotomy approaches to anterior circulation aneurysms. In November of 2007, at the Philippine General Hospital, that same Filipino became the first man in Southeast Asia to insert an auditory brainstem implant in a procedure involving two of the best teams in the country. He captained the Neurosurgical team, while Dr. Charlotte Chiong, also a PHI, led the ORL group.
Every man has his own destiny. The only imperative is to accept and follow it, no matter where it leads him. For Brod Gerardo Dizon Legaspi, or Gap to his closest friends, destiny dropped him a hint during his second year of High School. He was watching television and came across a National Geographic feature on a procedure in neurosurgery. The use of gamma knife technology caught his eye. Fascination engulfed the young Gap as he bore witness to this technological marvel well ahead of its time. It was the idea of executing those procedures and wielding the tools of modern Science that sparked Gap's transformation into one of the best neurosurgeons in the country.
Gap was born on February 13, 1962 to Rustico, a civil engineer, and Corazon, a school teacher. The eldest of six siblings, he and his family lived in a community in Paco, Manila. With strict disciplinarians as parents and the neighborhood not being the safest place to live in, the Legaspi siblings always kept a watchful eye on each other. Gap always had an insatiable thirst for adventure, savoring new experiences and constantly searching for something to do. But despite trying his hand at a number of different activities, it was the field of Science that won his heart.
During primary and secondary school, Gap quickly became a jack of all trades. He dabbled in a number of extra-curricular activities like theatre, automotive mechanics, rondalla, and even gardening. In High School, at La Salle Greenhills, Gap ran track and field. He also fueled a passion for music by joining a rock band. It was during these years that Gap made up his mind to become a surgeon of the most fascinating organ in the human body. He was very vocal about this decision, so much so that he candidly said to girls during soirees: "I want to be a brain surgeon."
Gap took his first step to becoming a neurosurgeon by taking up BS Biology at the University of the Philippines-Diliman. There, he satisfied his hunger for extra-curricular activities by becoming captain of the track and field team, and by joining college organizations including the Pre-Medical Society, Association of Biology Majors, and Simbuyo. And after four blistering years at Diliman had passed, Gap was all set to enroll himself in the UP College of Medicine. With this bold move came his first fated meeting with PHI.
After graduating cum laude from UP Diliman, Gap entered the hallowed halls of the UP College of Medicine. He was sure that he would join a Fraternity to further his growth outside the classroom, however, Gap's allegiance was still up for grabs. His best friend had already decided to join another organization, and Gap was thinking of joining him. Gap, still at the crossroads of making a choice, decided to give attend another PHI orientation before making up his mind. It was there that he met Brods Ramon Salva Guerra Φ'77, Bernabe Reyes Marinduque Φ'77, and Teodoro Kintanar Gonzales Φ '78, who headed the affair. Augusto Jose Panlilio Tanjuatco Φ'83 and Marlo Famorca Leonen Φ'83, Gap's future batchmates, were also in attendance. In the end, the individuality of the members he met and their zeal towards excellence made Gap decide to join PHI, a choice he made on his own.
Being the active person that he was, Gap manned a number of pivotal positions in his days as a resident Brod. He garnered the honor of Junior Guardian of the Temple, Venerable Preceptor, and Vice Superior Exemplar, which enabled him to serve the Fraternity to his utmost. Gap even brought his musical gift into play. During his college days he learned to play the flute, and he eventually added the saxophone to his musical repertoire during his internship. These talents made Gap an invaluable member of the PHI Jazz Band. Through the years, Gap never lost his passion for music. To this day, he would gladly wield his sax and jam with PHI Band members, both young and old.
Gap relates how PHI continuously supported him in his endeavors even after his time in med school had come and gone. In applying for a Surgery program, good grades were crucial, but a good endorsement was of equal value. At the time, the Department of Surgery was laden with PHIs. Most notably, Brod Alfredo Ticzon Ramirez Φ '56 was Department Chair, while Brod Nestor Sanvictores Pareja Φ'58 served as Executive Assistant. With good grades and the favor of the Surgery bigwigs to boot, Gap had little difficulty in securing a slot in the coveted Surgery program. His application was sought by Trauma Surgery as well as Neurosurgery (NSS), until he finally chose the latter. His zest for encountering firsthand command center of the human body has not diminished since. Toiling diligently at the myriad cases and operations demanded of him during training, he accumulated a wealth of experience that few doctors can match. He loved every hour in the operating room. Instead of pursuing fellowship, he established a practice and soon carved a name as the 'aneurysm king', and with good reason. In his career, he has performed more than 400 operations on aneurysms alone, counting only those records he was able to keep track of. By the time other neurosurgeons got back from NSS subspecialty training abroad (spine NSS, pediatric NSS, etc.), he had handled many cases that would have been theirs, had they been around.
When he started out, he tirelessly saw patients in many smaller hospitals in various cities, no matter the distance. He knew there was no substitute for perseverance in the early chapters of a young doctor's career. Today he manages a schedule bursting at the seams – as intense as any resident's, if not moreso, but for different reasons. He operates practically everyday, as evidenced by a little black book he carries around to list his scheduled operations; its pages fill steadily as he goes about a routine day, until he has to set operations on weekends just to cope. Once, he performed seven operations in one day. On top of surgeries, he sees patients at his clinics and at hospital rounds, sometimes rushing through "fast and furious" meals reminiscent of his days in residency training, in order to accommodate the volume of patients who come to see him. Some are from Mindanao, some from Manila, others from anywhere in between. He once saw 32 patients in one clinic day, a record high that (like most of his clinic days) extended beyond his scheduled hours. Add to that his other engagements as one of the most experienced and respected practitioners in the Philippines and abroad. An airline flight once delayed its departure for him as he rushed from the PGH O.R. to the airport in the span of a few minutes – from a successful photo-finish procedure to a flight heading for his speaking engagement about it.
Paradoxically, instead of burnout, the greater danger Gap guards against is enjoying the field too much. After operating on a 7cm giant aneurysm at PGH he exclaims, "Who can resist a case like that?" He reminds himself and his students that despite the thrill of the O.R. for those who love this profession, NSS should always be primarily about the patient's welfare. More than that, "each patient is a potential friend," Gap says as he takes the stairs from his 4th floor clinic where he just saw 21 patients in one night. He had yet to drive himself home, having dismissed his driver earlier because he had a few more patients to see past 8pm. That belief and the human touch it implies is clear when one learns that the bright eight-year-old boy who came to the clinic for a back-to-school checkup is named Gerardo and calls Gap his ninong; and when one learns this is because eight years ago, Gap saved little nameless Gerardo on the operating table, when he arrested due to a malfunction of the anesthesia machine.
On a more general scale, Gap's humanity is no less tangible. Easily three fourths of his operations, he performs at PGH, mostly as charity cases. Of the rest, a good percentage he does not charge because they are among the many referrals he receives who are related to family, friends, and colleagues. And when he does charge a professional fee, his patients are surprised to hear how low his rates are. Gap says it jokingly but it is the plain truth: he is cheaper than many of his former students – and he prefers it that way. Gap's love of the game, after all, has never been about the money. Neither is his passion limited to the surgical aspect of NSS. He laments that of the roughly 120 neurosurgeons in the country, most prefer private practice, leaving the academic side of the field wanting. It is his dream to do more research and to enrich the teaching of Neurosurgery. His passion is palpable in the O.R. when he speaks excitedly about a procedure, or proudly about a resident's performance. The beauty of operating in PGH, he relates (while watching a senior resident's movements on a live-feed monitor), is having the residents, not merely to speed things up but to watch them perform. "She just made my day," he beams as the senior resident clips the giant aneurysm. Around his students, he is as comfortable guiding from a view of the monitor as teaching in front of the negatoscope as dissecting a live human brain.
As of today, Gap has accomplished much in his career as well as in his life as a PHI. He is the former Chief of Neurosurgery of the Philippine General Hospital and former head of the Neurotumor Program at Medical City. He has a master's degree in Neurovascular Diseases. He holds clinics at Asian Hospital, St. Luke's Medical Center, the Philippine Children's Medical Center, and Manila Doctors Hospital. He also recently has been awarded the position of President in both the 15th ASEAN Society of Neurosurgeons and Academy of Filipino Neurosurgeons. To the resident Brods however, he is best known as PHI's current Fraternity Adviser, a position endorsed to him in 2006 during the term of Brod Paul Nimrod Borja Firaza Φ'02 as Superior Exemplar. He is also fondly known as the neurosurgeon who bought himself a brand new BMW motorbike for his 45th birthday despite sustaining whiplash injuries after two close calls on the road, and despite attending to innumerable head trauma victims himself. The Fraternity is witness to how Gap has always given of himself, never resting on his laurels, lifting the Fraternity on his shoulders as he goes, and enjoying every minute of it. Truly, Gap is nothing like his name's homophonic common noun; he is brimful of passion for a calling that is truly his. 
Finding one's niche in life is reason to content a man. But never being content with it, instead making a name in that niche – that is reason to celebrate him. Though it need not be said, Gap will always lend his brothers not just a helping hand, but an ongoing life story that inspires.