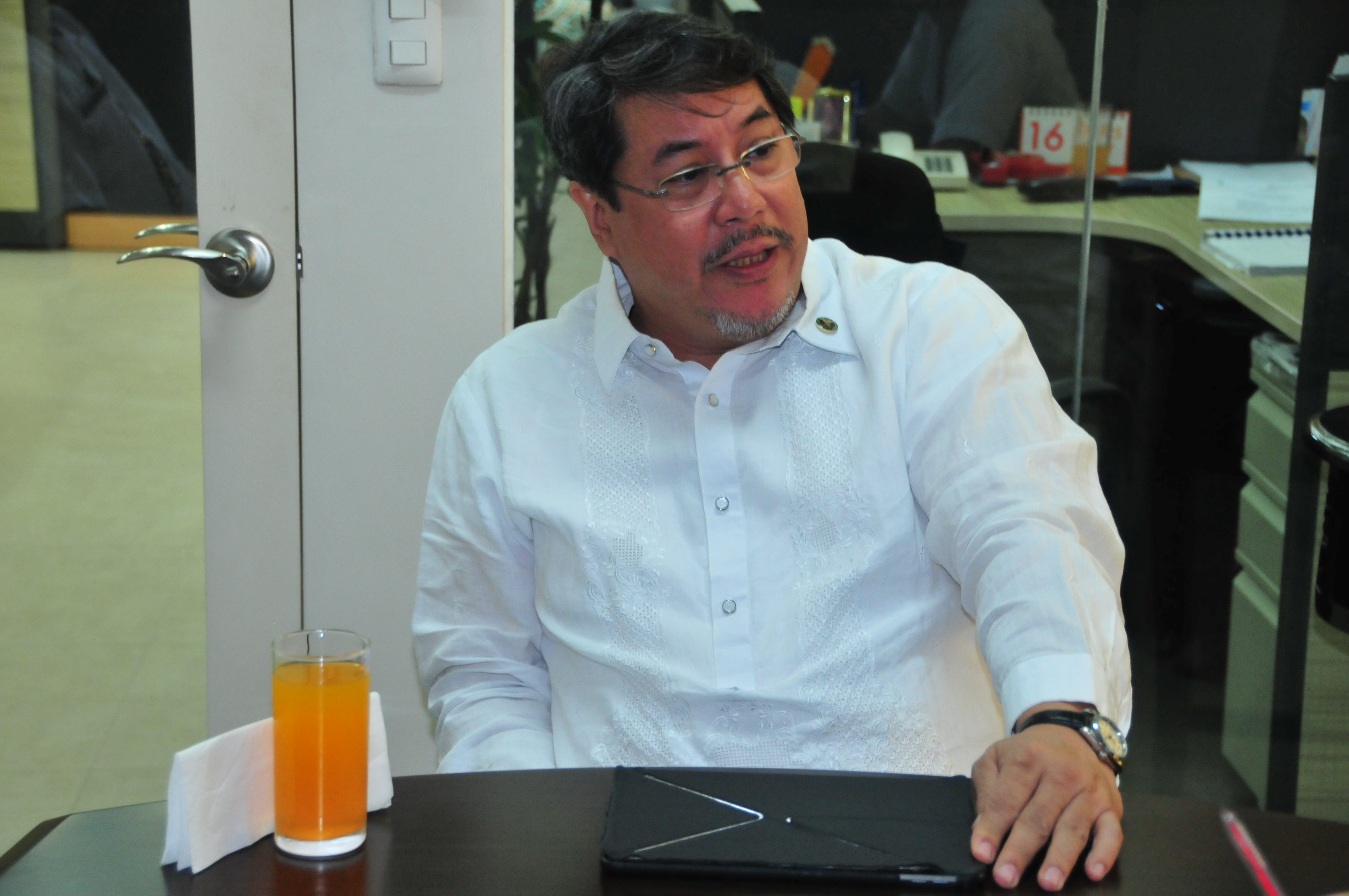 He is the former Undersecretary of Health, the former vice president of the University of the Philippines Alumni Association, and the current Executive Vice President of the University of the Philippines. The man of the hour, he is Dr. Teodoro Javier Herbosa Φ1979. It was an honor and privilege to be able to talk to the man himself. Though his schedule was tight, he made sure that this interview pushed through, being the loyal son of the fraternity that he is. On the day of the interview, we took a drive to his office in the University of the Philippines Diliman. It was a drive we knew we would love, for it was the moment we would met the brod. Arriving at the venue, he gladly welcomed us himself saying, "'Musta brods?"
On Personal Career and Success
Brod Ted fondly remembers that he took emergency medicine as an elective back in his second year in medical school, which he genuinely enjoyed. However, the truth is that he really wanted to be a neurosurgeon. In fact, his final elective was neurosurgery, and he also loved rotating in neurosurgery. Nonetheless, during his rotation in the neurosurgical intensive care unit, he saw that the patients were in a comatose state. They were unresponsive before and after treatment. This changed his outlook of neurosurgery. The fact is that treatments of neurosurgery patients were barely successful and, if they were, they left the patients in a vegetative state (which is not the case today). Thereafter, he realized that neurosurgery was not for him. He then turned back to emergency medicine. He enjoyed his rotations in the emergency room by treating gunshot wounds, trauma, and stab wounds. He liked the adrenaline rush of dealing with blood, cuts, and gore. He saw the immediate effects of his treatments by having an actual hand in saving the life of his patients. This eventually led him to surgery. This was a time when everyone wanted to be a neurosurgeon or cardiac surgeon, both being lucrative professions. However, he was not thinking about the money. For him, it was leadership that really attracted him. Emergency and trauma needed a lot of leadership that was quick and decisive for it to be effective, and this was something that excited him.
         Continuing his passion in trauma surgery, he enlisted in the military in 1984. During that time, which was martial law in the Philippines, intern graduates were always required six months of rural service. Their other option, however, was to join the military. Being the son of a former member of the Philippine Constabulary, Major Estanislao Herbosa, Jr., he joined the Armed Forces of the Philippines Medical Corps which included military training. They had one month of rigorous training followed by deployment. After training, he was awarded the rank of probationary 2nd lieutenant. Soonafter, he trained in the Armed Forces of the Philippines Medical Center V. Luna General Hospital in Quezon City. Finishing his training, he applied for two surgical fields in Philippine General Hospital (PGH) in Manila. These were General Surgery, his second love, and Obstetrics and Gynecology, which was also surgical. If he did not get into surgery, he can still be a surgeon in Obstetrics. However, he ended up getting accepted into surgery.
          On Brod Ted's fifth year in surgery, Dr. Alfredo Ramirez Φ1956, the chairman of surgery at the time, asked him if he wanted to join the newly created Trauma Division. Brod Ted then agreed. This basically meant that the Trauma Division was a Phi creation. Later on, Brod Alfredo sent him to Israel to have his fellowship training in Trauma in Tel Aviv University, Chaim Shiba Medical Center, the largest hospital in Israel located in Tel HaShomer, Ramat Gan City. He finished the course in 1991 and came back as a consultant in the Trauma Division. Eventually, he became the chairman of the division. At the time, he was the youngest chairman of a department at 42 years old. He was chairman of the largest and most active emergency room in the Philippines. He immensely improved the condition of the emergency room by having air conditioning units installed and fully computerizing the division. In fact, his achievement in the department gave him fame internationally. His help was being asked everywhere. He learned that the key to his success was "…fix the problem in your country. When you solve it, people start to ask you to go [to them] and [ask you] how to solve it..."
         It was also during this time that Brod Ted was offered to run as director of PGH. However, due to political reasons and internal conflicts in the elections, he was not chosen. Afterwards, his opponents felt threatened, for Brod Ted could still run once more in the next elections being young and already well connected. They then decided to remove him as chairman of the Trauma Department. As fate would have it, he was then offered a job as chairman of emergency medicine in the teaching hospital of the National University of Malaysia, the Universiti Kebangsaan Malaysia Medical Centre in Bangi, Selangor. The originally three-month job turned to a three-year stay. After three years of teaching in Malaysia, he realized that he missed serving the Filipino people. He thus came back in January of 2010. It was then September of that year when the then Secretary of Health Dr. Enrique T. Ona Φ1957 asked Brod Ted to be his undersecretary. On November 2010, he officially took the oath and started serving as a government official.         
Working in the government was never in Brod Ted's plan. It so happened that Brod Enrique saw his work in the division and was very impressed. Brod Enrique then asked him to be his undersecretary. Serving the Department of Health (DOH) was a completely different endeavor, for it focused more on health policy. The department had long been ran by masters of public health who focused on immunization, diarrhea, water, and sanitation. Being a duo of clinicians, they gave a different view on how the department should be run. They focused more on hospital and health systems. Brod Enrique focused on developing transplantations, while he focused on developing trauma systems. It was a perfect tandem that made specialty healthcare more accessible for all. Aside from this, he was also part of the National Security Council where his specialty in disaster management really shined. He was part of the working group, a subcabinet cluster of undersecretaries which analyzed and implemented various actions for disaster situations.
While serving in the government, he also taught Masters in National Security Administration in the National Defense College of the Philippines, Quezon City. He has also taught internationally at the World Bank. His teachings were supplemented by the fact that he has already made significant changes in the Philippines including the implementation of sin tax reform and the development of public-private partnership projects. This further increased his professional experience, from trauma and disasters, to teaching, and to national security studies.
         His humanitarian work included helping the differently-abled children. Currently, he is the chairman of the board for Physicians for Peace - Philippines. Together with the United Nations International Children's Emergency Fund (UNICEF), they built a package for PhilHealth reimbursement for these children.
         The major challenge of being an undersecretary of health was solving the problem of health inequity. One way they worked on this was by passing the sin tax law. Signed by Brod Enrique, the sin tax law was won in the senate by 10 to 9 votes. However, they underestimated the heavy play of politics which are known to go on in government. They successfully quintupled the health budget before they were unduly removed of their respective positions. Even then, Brod Ted was happy that they were able to pass the sin tax law. Now, there is more money in health which can go to the continuous progression of health reforms.
         After serving the government as undersecretary, he went back to being the chief of trauma in PGH. This time, he was the special assistant to PGH Director Gerardo D. Legaspi Φ1983 in emergency and ambulatory services. However, it was a short-lived job because of a nuisance case lawsuit filed against him by the ombudsman. Luckily, it was dismissed, but the consequence was already in effect. He was dismissed in UP Manila and lost his job. So, he filed a motion for reconsideration which was accepted. He was then reinstated just recently last November of 2016.
         His current position today, just like his previous ones, came unexpectedly. In January 2017, newly elected President Danilo Concepcion asked him to be his Executive Vice President (EVP) of the University of the Philippines System. It is basically the Chief Operations Officer, as he is the one operating the university. He admits to have aspired to becoming the Chancellor of UP Manila and even PGH Director. At his newly appointed position, he is now at a higher positioned he had not even considered. He told me something that really struck me: "If you want to become successful do not aim high… aim 45 degrees, and you will reach the furthest."
         The story of his life is basically full of surprises. You may see it as him being a "failure," for he never got what he aspired for: PGH director, Chancellor, or even a neurosurgeon. However, looking at it at the right angle, he is an extremely successful doctor. He has held high positions in two of the most important posts for human development, health, and higher education. His principle was to "make the best of what you have at the time you're doing something." It is really difficult to plan your life, and you never know what comes your way.  Admittedly, he is happier now at education because whatever he does will change the future of all the young Filipinos. For him, it was everything he could have asked for.
On Phi Kappa Mu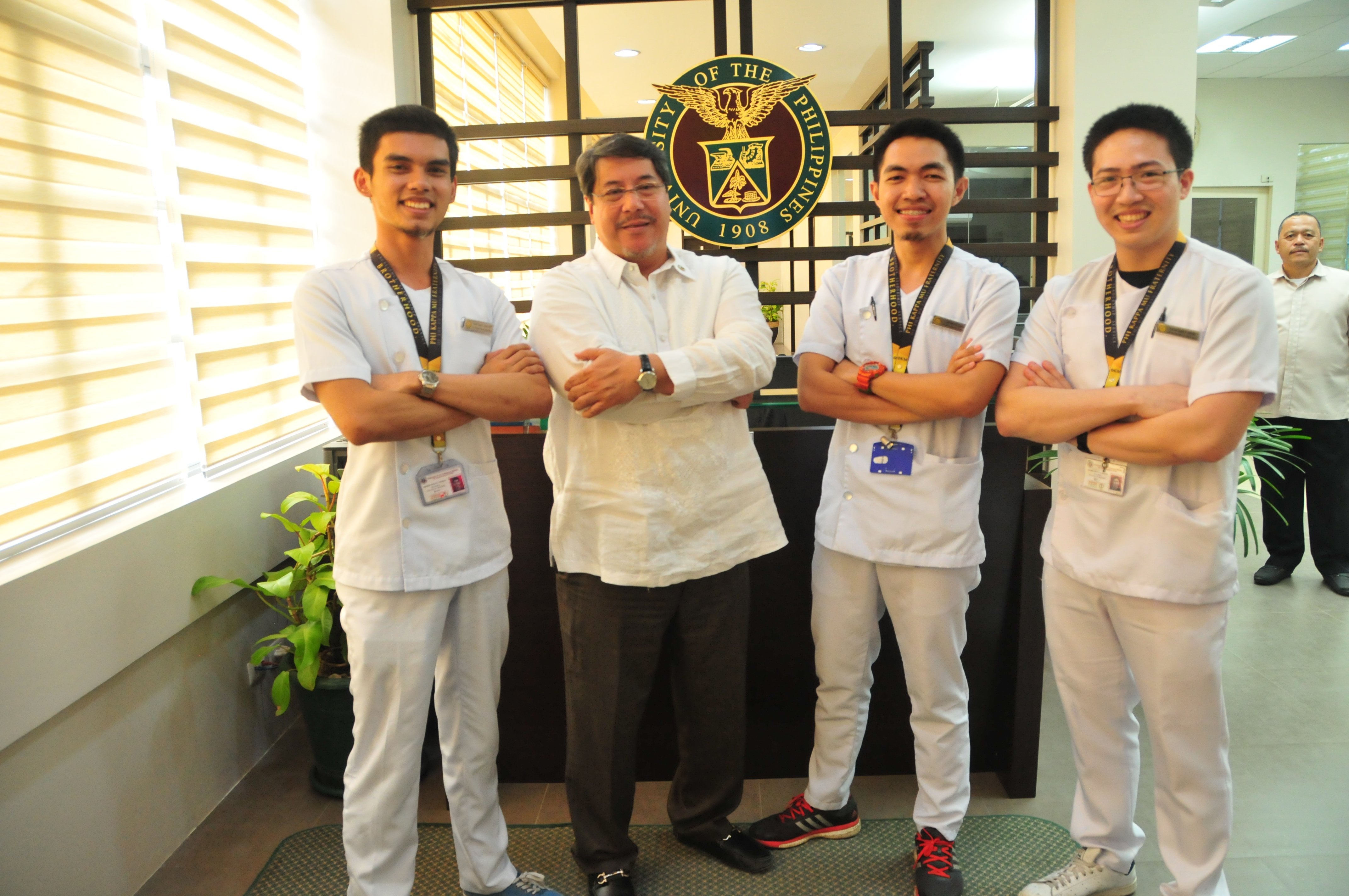 Brod Ted's inspiration on joining the fraternity was his friends who all joined Phi. He was a member of a pre-medical organization in Diliman, the UP Zoological Society. At that time, many of the alumni were Phi. "I think I fit [in] Phi… di ako nagsisi sa Phi." The fraternity really nurtured him very well, and it helped when he was a young chairman that all his mentors were Phi. Simply put, he had the most fun being a Phi. One of the things he enjoys most is the camaraderie with the brods by drinking after exams and successful events.
         When asked how Phi had helped him, he said that it taught that we stick to the basics. "A Phi must be a good medical student." We must learn to inculcate in our minds what our senior brods teach us. That is the importance of brotherhood, that there are people to emulate, just like how he was the first Phi to become EVP of the University of the Philippines. In this way alone, he shines among his juniors. His achievement inspires us to believe that it is possible to become the EVP of the UP System, to be the undersecretary of health, and to receive international recognition.
         "Be useful to the society, be useful to the university… you don't have to be a doctor to start to have an effect to society." These are Brod Ted's advice to the resident body: do some creative work that will elevate the status of the fraternity and do projects that are socially-oriented. His words prove his loyalty to the fraternity and he truly cares for her. The last moments of the interview when he said to me, "Thank you for visiting me," gave me chills. Imagine, a man of his caliber saying that to me, a mere medical student. It only shows how deep his love goes for the fraternity. He truly is a loyal son of the Phi Kappa Mu.