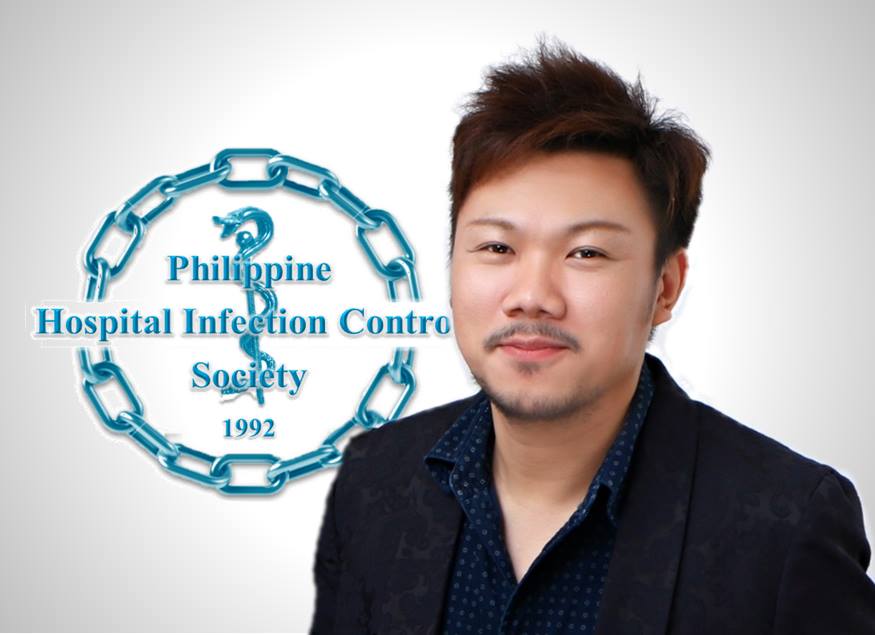 The original plan was to conduct a formal interview with Brod Arthur Dessi Estrada Roman Ф2000. But of course, once brothers come together, we couldn't help but talk about all sort of things, to the point that we almost forgot that we were there for an interview. After the laughing and chatting, we went back to the order of the day. We talked about life in the Fraternity inside and outside medical school, his career and his newly elected position as President of the Philippine Hospital Infection Control Society.
History
Dess remembered how he chose to take up infectious diseases as field of study during residency. Before then, he was interested in the use of antibiotics. He considered managing patients using antibiotics to be easy, since once you start with an antibiotic and the patient does not respond, one simply steps up to a different class, one with a broader spectrum of activity. Soon he realized that it wasn't so easy. The decision to start an antibiotic is never "for what it's worth" and the choice not always a matter of "stepping up".  One should always consider the site of infection, the most likely pathogen, the pharmacologic properties of the antibiotic, the kidney function, and so much more. Admitting he wasn't the best medical student, he made up for it with passion and his interest in Pharmacology. This interest, as well as the rise of emerging infections and the multi-systemic nature of infectious diseases (ID) as a subspecialty led him to enter this field.
Not too many were going into the field of ID then. During his time, their batch of four had only one senior. Nowadays, a batch of ID fellows in PGH consists of around six.  Right after he finished his ID fellowship, he was immediately recruited by the Board members of the Philippine Hospital Infection Control Society. During their conventions, he recalls being told things like "Doc, sali ka na" even before he graduated. Most of his bosses in ID had their hands full already.  They said it was time to hand over the baton. It was a fast track.
I felt privileged since I got to work with a lot of people in [high] positions. You are given an opportunity to make a difference at an early time. Tapos gusto mong baguhin yung sistema that you feel needs updating.
At that time, there was an opening at the Research Institute for Tropical Medicine (RITM). He got a medical specialist position with the Medical Department of this institute right after passing the ID subspecialty boards. The work involved taking care of patients with suspected or confirmed emerging infections and other infectious and tropical diseases (HIV, rabies, tetanus, etc.) as well as clinical research. Probably because of his work with the government (RITM is under the Department of Health), many door of opportunities opened for him. He got a Biomedical Research Fellowship under the Korean Centers for Disease Control. Soon after, he fortunately received a grant under the Joint Japan/World Bank Graduate Scholarship Program that enabled him to pursue a Masters Degree in Tropical Medicine at the Institute of Tropical Medicine – Nagasaki University in Japan.
Brod Dess currently maintains his work at RITM and part-time as Clinical Associate Professor in PGH. As an internist and infectious disease specialist, he is a fellow and diplomate of the Philippine College of Physicians and the Philippine Society for Microbiology and Infectious Diseases.  He is a member of the Department of Health Technical Working Groups on Viral Hepatitis and Infection Prevention and Control. He is also part of the Philippine Hospital Infection Control Society, a professional society that deals with prevention of infection. It was formed by doctors and other healthcare professionals. Surrounded by doctors full of experience, he was the one chosen to be president to the Society.
As someone who upholds the pillars of Phi, Dess knows that something could always be done to improve any situation. Something could be done better, faster and more efficiently.  A lifelong learner, Dess enjoys teaching while being a clinician. He currently travels to different parts of the country to deliver lectures and conduct trainings involving his field of interest.  He feels that his One Big PHI (an annual variety show held during the Christmas season for PGH patients and watchers) hosting stints back when he was a resident brod has well prepared him for the job.
Infection Control
When asked to give a background on Infection Control, Brod Dess pointed out that back then, infection control wasn't paid much attention to. Before, infection control was only concerned about how patients admitted inside the hospital were prevented from getting infections. Now, its role has  extended to disease prevention outside of healthcare facilities. The strategies in stopping the spread of diseases should be incorporated in our daily lives.  With the advent of emerging infectious diseases like MERS, SARS, Ebola and Zika, it's now gaining more attention. He pointed out that Infection Prevention and Control is not just about patients not acquiring infections inside the hospital, but also about health care workers, who take care of the patients, being protected from  getting diseases as well.
Dess mentioned that infection prevention and control involves many aspects including prevention and management of healthcare-associated infections, management of needlestick injuries sustained by healthcare workers, vaccination of medical and paramedical personnel including medical students, surveillance, and even outbreak investigation.  For the most part, infection prevention and control entails training and education according to him.  Members of the infection control team of every healthcare facility would need to reach out to all hospital staff, whether or not they are directly involved in patient care.  He said the society has been providing Basic infection control training courses for nurses and doctors all over the country.  It has also embarked on trainings on the conduct of surveillance of healthcare-associated infections to enable monitoring of trends in the rate of infections over a period of time. Dess lamented that presently, the surveillance system in the Philippines isn't that good. In government hospitals, the data isn't clean and complete as it should be, especially in provinces and secondary/primary hospitals. 
Phi
When asked how he decided to join Phi, Dess said it was a leap of faith.  He was part of the INTARMED program, and the majority of INTARMED from class 2005 signed up with Phi Kappa Mu.  He remembers Carlo Elino Pasion Mataverde Φ2000 and the rest of the "Melrose Boys" back then telling him "basta pumunta ka na lang" during the Prior's Stag, which was at that time the last day for signing up. He remembers being talked to by many alumni brods, one after the after, including Arthur Oliver Villanueva Romero Φ1996A, who was also a product of the INTARMED program.  He signed, not really aware of what was ahead.  "I can clearly remember walking along Malvar on my way home after signing up na parang lutang thinking about what I just did… because I really had no idea what I was going into.  But it was probably one of the best decisions I ever made… cliché as it may sound."
He reminisced how the long and lasting traditions of the Fraternity have stayed, laughing as he recalled the various activities him and his Brods would do--all-nighters such as finishing the Phi "Teddy Bear" Lantern with Lawrence Frederick Aquino Tumaneng Φ2000 and Henry Edward Dela Cruz Reyes Φ2000, having a blast with Godwin Jimenez Vivar Φ2001 and the late Ted Jusay Suaco Φ2001, and practicing TRP and Only the PHInest dance minutes before the actual performance were always fun.  Making jokes about how setting up the Fraternity events were challenging, he remembered how he learned a lot from them.
He attributed his self-assuredness to the Fraternity, as well as the feeling that he could do anything. Problems were easy to solve, aware that he's been through similar hardships. Dess would invite people to talk, to simplify things. "Magagawan natin lahat ng paraan," he said. Even during board meetings, he recalled saying things like "Relax (in a Christopher Quiambao Victorio Φ1997 or Chito Caimoy Permejo Φ1996B kind of way), teka lang. Focus muna tayo. Pag-usapan natin and let's try to simplify."
Dess pointed out that there are different personalities in the Fraternity. Some are loud, some are quiet; some are fast, others are slow--one gets to learn to get along with them. In terms of work, he learned a lot from the Fraternity: working as a team, simplifying things, focusing and being goal-oriented. He learned not to sweat the small stuff, ignore the distractions, and focus on the more important.
President of PHICS
Fortunately for him, Dess said that the field of Infection Prevention and Control has started to be at the forefront of patient care especially with the threat of emerging infectious diseases looming around and with the trend towards achieving external accreditation by healthcare facilities. Even the DOH realizes this and has been very active recently in promoting this endeavor.  When asked for his goals as the newly elected President of the Philippine Hospital Infection Control Society, Inc., Dess pointed out that he wants to sustain this momentum. He wants to promote infection prevention and control as a way of life. There is a lot of work to be done which includes the creation of guidelines to standardize the practice, continued education and training of healthcare professionals, upgrading of local healthcare facilities to at least be compliant with regional standards, establishment of reliable surveillance mechanisms and conduct of research to further improve patient safety and outcomes. Brod Dess pointed out that the guidelines would not only cover clinical management. The multifactorial nature of infection control requires that all aspects be handled from prevention and management of Hospital-Acquired Pneumonia, proper handling of linen and laundry, waste management, and even engineering. 
While he realizes that eventually, DOH will take over the function of ensuring that infection prevention and control is incorporated effectively into the healthcare system, it's his challenge to ensure that society remains relevant.  He wants to establish a strong and mutually beneficial relationship between the society and the DOH—after all, they have a common goal of improving the quality of health care in our country.
Home
As a medical student and trainee, Dess remembers his consultants well, much more the Brods in the College whom he looks up to such as Dr. Ramon Fabella Abarquez, Jr. Φ1948, Dr. Venancio Ilao Gloria Φ1970, Dr. Manuel Bautista Agulto Φ1969A, and Sisses Dr. Marissa Alejandria and Dr. Trixie Luna-Sun.  He has always wanted to go back to his beloved College to teach. He also noted how he always enjoys going back to the frat, remembering how just before leaving for Japan, he used to teach Microbiology to Brods about to take the Physician Licensure Exam.
 The Fraternity was my brotherhood.  It served as additional support.  It gave me an opportunity to do some of the things I wanted to do, to share and showcase some of the things I am good at.
He remembered how the Fraternity served as his home, his support system. When his parents got sick, his brods were always there to help him. When his grandfather got sick of glaucoma, it was no less than the Dr. Manuel Bautista Agulto Φ1969A who took care of him.  It Dr. Benigno Amor Agbayani Jr. Φ1986 who helped his mother when she had a spinal dislocation while Dr. Eric Sta. Maria Talens Φ1981 attended to her when she needed breast surgery.  He remembered that there were many more instances in which the Fraternity helped, although noting that those were mere extensions of the warmth of brotherhood.  He trusts that Headstrong (Φ2000), his batch, will always be there, as with the rest of Phi.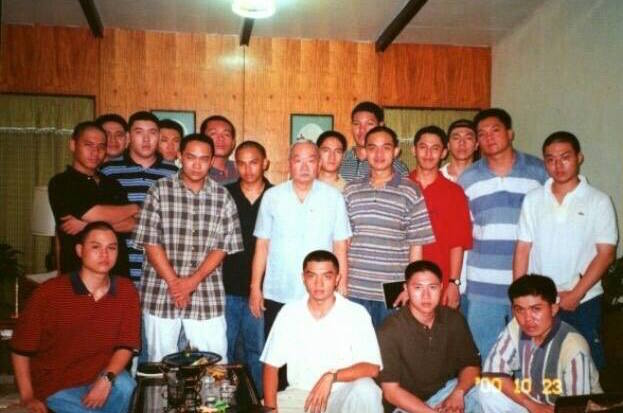 Phi Batch 2000 - Headstrong 
Dess knows that every time he goes back to the College, he could always head back to Pagkalma. He appreciates it when Brods ask help from him, since he naturally enjoys helping. He especially enjoys helping the medical students, always wanting them to learn something from him and his lectures.
Goals 
"What I want to do is empower people." 
Dess' main goal is to empower people. "Whether medical students, whether Brods or anyone, I want to empower them, enable them to know what to do in hard situations" he adds. He cherished the moments when he meets his former students or partners in healthcare, and they tell him  "Doc! Ako si ano, naging student mo. Ikaw yung nagturo sa akin ng ganito, hindi ko makakalimutan yun."
With this, we'd like to thank Arthur Dessi Estrada Roman Ф2000 for giving his time for this interview, and would like to congratulate him once again on his newly elected position as President of the PHICS, Inc.