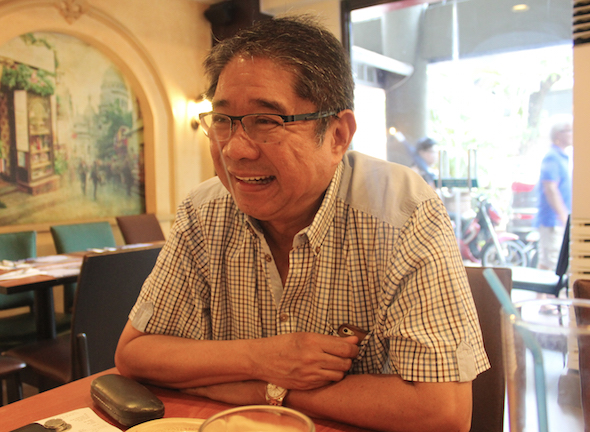 A warm smile greeted me across the coffee shop as I met Brod Gene. In the intimate setting of a warm summer morning with the smell of coffee and fresh bread in the air, Brod Gene's friendly and caring demeanor will instantly make you feel at home. Although already in his senior years, his face beams with the spirit of youth. Even with all the life achievements under his belt, he shows no sign of slowing down. It is with his latest achievement, the honor of the title professor emeritus, that I've come to discover his story to share with the rest of the brods of this fraternity.
On the 17th of February, 2016, Brod Gene was appointed professor emeritus by the Board of Regents of the University of the Philippines. He is one out of the seven professor emeriti approved this year and the only one from UP Manila this year. More distinctively, he is the first and currently only professor emeritus of otorhinolaryngology in the whole Philippines. To attain this title, one has to be exemplary in teaching, research, and service throughout one's life as a doctor until his or her retirement.
Teacher, Researcher, Servant
In his 34 years of service to UP, Brod Gene has taught countless classes related to his specialty in the UP College of Medicine, often getting "outstanding" in his teaching evaluation. Besides this, he established the Master of Clinical Audiology Program, a joint offering of the UP College of Medicine, Department of Otorhinolaryngology and the College of Allied Medical Professions. It is considered one of the few successful masters degrees offered by a clinical department of the UP College of Medicine, and about 35 graduates have benefited from this course as of writing.
Research is probably Brod Gene's forte as he has garnered numerous awards in this aspect. He has two UP President International Publication Awards by the UP System and recognized Most Oustanding Researcher by the UP Medical Alumni Society. Currently, he has 43 research articles published in reputable peer-reviewed journals both nationally and internationally. His works are determined to have high impact: his published works have a total of 67 citations in Google Scholar and counting. One of his favorite researches involves the study of the Ati Tribe of Boracay. He discovered that they held a gene that predisposed them to middle ear infection because the tribe itself consisted of three intermarrying families that have preserved that gene.
In service, Brod Gene definitely excels. He established the Philippine National Ear Institute in 2002 with the vision "No Filipino should be deprived of functional hearing and balance". It provides research, training, and teaching facilities for UP College of Medicine Master of Clinical Audiology students, and a training facility for PGH ENT residents and College of Allied Medical Profession students. He has been its founding director from its conception until 2014. Brod Gene has also served Chairman of the Department of Otorlaryngology of the UP College of Medicine and Philippine General Hospital from January 2000 to December 2006.
In addition to all this, his favorite project is the reconstruction of middle ear structures damaged by chronic otitis media by using autologous temporalis fascia, cortical bone and cartilage grafts in one operating procedure. This is an innovation to what developed countries do which would use more expensive artificial materials and take more than one procedure to finish. It is what he believes to be more effective, more efficient, and cheaper in every way. He estimates having done at least 300 of these operations in the Philippines.
It is not something worked for.
When asked how he felt about being awarded professor emeritus, he feels happy and privileged. What he emphasized is that one does not consciously work for it. One has to be truly enthused in his work of teaching, research, and service all throughout one's life with no heed of the prosperous title ahead. For him, his ventures started with his curiosity with the middle ear when he noticed that many Filipinos got middle ear infection during his time as resident in Philippine General Hospital. He did more research and eventually a lot of his works revolved around his inner spirit of service.
Brod Gene is most thankful for his parents in his life, especially for getting him to through life until high school. His father was a doctor who worked in Nueva Ecija. In his young summer days, he would help out his dad in his clinic. This eventually translated to his inspiration in becoming a doctor. His mother was a high school teacher and this made him become a teacher himself.
More than the title of professor emeritus, he couldn't ask anything more than having a son, Franco Luis, who took up after him in otorhinolaryngology. He took a scholarship grant in Roudboud, Nigmegen in the Netherlands and MS Audiovestibular Medicine in the University College London. He, too, has taken up his father's procedure of reconstructing the middle ear, and the two of them are the only ones who have mastered this in the Philippines.
Forever Grateful
He never wanted to be in a fraternity and never planned to be. It was living with brods of the fraternity, however, that eventually caused him to join. He remembers being with Brod Jose Castillo Gonzales Ф1969A and Brod Billy Sana Kong Ф1969A who influenced him especially so that he'll have an easier time when he starts out in the hospital. Finally, he joined in second year, and he simply calls it fate.
It was also Brod Joselito Amormio Centeno Jamir Ф1969A who supported and guided him in his residency in ENT in PGH. After this, Brod Manuel Baustista Agulto Ф1969A invited him to be his ENT partner in San Fernando Pampanga. Brod Gene has been thankful for all this because he had a wife and a son during his second year of residency. He had to support his family and he knew that starting private practice was difficult in Manila. It was only after 10 years of practice that he finally gained a foothold in Manila Doctors Hospital and was invited to teach in the UP College of Medicine.
Melting Clocks
Mrs. Lidwina Abes was an artist, and so he got a lot of exposure to all sorts of art. One of his most memorable pieces of interest is the series of melting clocks by Salvador Dali, one of the most iconic surrealists of all-time. Brod Gene has interpreted these artworks by discussing man's useless struggle with time. The only resource we are always running out of is time, and it is up to us to make the most out of it. With everything he's done with his life, there's no question that he has truly lived up to his motto.
Asked about his future plans, Brod Gene simply wants to spend time with his two youngest kids. He likes bringing them to the fields and to the farm to experience nature. As he grows into retirement, one of his favorite things to do is to take care of the environment, specifically by replanting trees in his plot of land in Minalungaw, Nueva Ecija. The loss of trees has caused areas of Nueva Ecija to become grasslands and thus make floods more common in the area. With the help of his kids and some friends, he is an advocate of taking care of the environment and has planted various trees in his plot of land thus promoting biodiversity.
Brod Gene's final message to all of us brods is that we find the purpose of our lives in our hearts. Whatever it is we want to do, whether professionally or personally, we will not find it in our environment but in our hearts. This purpose is one of the most difficult things to find, but we need to keep looking for it. Once we find it, you will find your motivator, and it will make you happy for the rest of your life. It is similar to the story of The Alchemist by Paulo Coelho: the main protagonist looks all over for the alchemist when it turns out that what he has looking for has been in his heart all along.
For Brod Gene, he found purpose in the field of middle ear surgery which he even stepped on accidentally. He was left with middle ear surgery when his other fellow ENT resident took their priority pick on subspecialty. Eventually, he found himself researching more on the topic because of the prevalence of middle ear infection in the Philippines. As mentioned earlier, he took the time to find out how to reconstruct the middle ear in order to restore hearing. Now, he and his son are masters of restoring hearing and balance, a great accomplishment of service in the Philippines.
It is with this that we congratulate Brod Gene for being a perfect model of our fraternity's four pillars: excellence, leadership, service, and brotherhood. You have done all so much as our brother in the Phi Kappa Mu and as a citizen of the Philippines.